The 6 Best Leather Watches For Men In 2022
Leather watches are a stylish accessory that looks good with almost any outfit and in any situation, be it business casual or formal. However, since they're worn close to the skin, you should be careful about what type of leather watch you choose; you want one durable and comfortable! This article will look at the best 6 leather watches for men in 2022, organized by price and style (casual vs. dressy).
1) Seiko
Seiko has a long history of producing quality timepieces with an air of luxury. One of their newest models is an attractive white dial leather band watch equipped with a blue light sensor (for maintaining accuracy) and is water-resistant up to 50 meters. This is one of my favorite expensive leather watches for men because it combines timeless design with precision technology. It's one thing to wear a costly watch; it's another thing to look good. If you want to step up your game, check out Seiko's entire line of high-end watches here.
When you are looking for high-quality, expensive leather watches for men, you need to know what kind of styles you like and what your price range is going to be. Many different brands produce great-looking pieces that fit within a specific price range, but you will have to pay top dollar if you want top quality.
2) Citizen
While many watches might claim to be men's, Citizen knows what men want: challenging features and durable materials that can withstand rough environments, even more so if it means their watch still looks good. So it's no wonder that Citizen is one of our top picks for the best leather watches for men. The top-of-the-line model from Citizen has an Eco-Drive movement which powers its quartz movement with light, meaning you don't have to worry about replacing batteries or getting your hands on a winder. It also comes with an analog display with luminescent hands and hour markers and a date window at 3 o'clock. If you prefer something a little more casual, they also offer models with chronograph functionality.
3) Fossil
Fossil is a go-to brand for men's accessories, and its line of leather watches is no exception. Fossil offers a variety of sleek designs across multiple price points. The company also offers engraving on many of its products if you want to customize your new watch. You can choose from styles that range from sporty to classic. Prices start at $45 for some models but average around $100. Fossil has been making high-quality watches since 1984, so you know they will last. There's no need to spend more than $200 on a good eye. Look into Fossil's leather watches if you want something stylish and reliable. They come in several colors, such as brown or black, so there's sure to be one that fits your personal style.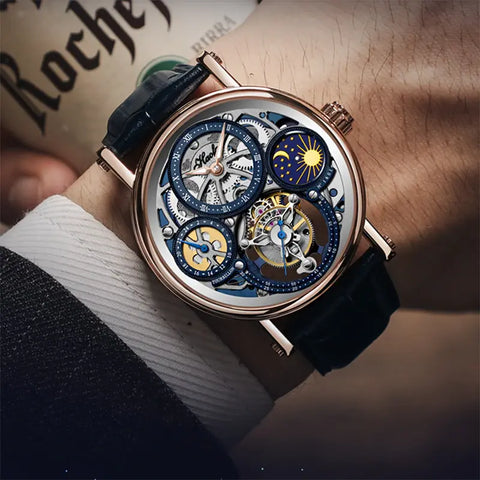 4) Tissot
Tissot watches are known for their top quality and elegance, and style. Swiss-made, these pieces take time to craft; each one is worth every penny. They have some of the most expensive leather watches for men, with many choices available. The price is definitely something to consider if you want to add a Tissot watch to your collection, but it may be well worth it when you see how beautiful these pieces are! One thing that makes Tissot watches so popular is that they make them for men, women, and children. It's not just about adult males who want a great watch to wear every day – there are options for everyone! They make top-quality options specifically geared towards adults looking for an elegant piece to complement their wardrobe or simply add some sophistication to an outfit.
5) Hamilton
The wristwatch isn't just an accessory. It's a way to tell time—and it's one of our oldest technologies. The first watches appeared during the 16th century when we ditched our clocks and sundials to become slaves to quartz crystals and tick-tock movements. More than 400 watch companies exist worldwide almost four centuries later, with each vying for a spot on your wrist with their own unique timepieces. But what makes a leather watch stand out from another? Branded watches for men are always a great choice if you want something that will last forever. The quality is usually superb, and they look good no matter where you wear them. If you like branded watches for men but aren't sure which ones are best, here are some top brands worth checking out: Hamilton: This brand has been around since 1892, and its products have been worn by presidents and royalty alike. While Hamilton has produced different watches over its lifetime, it specializes in classic men's pieces with modern designs.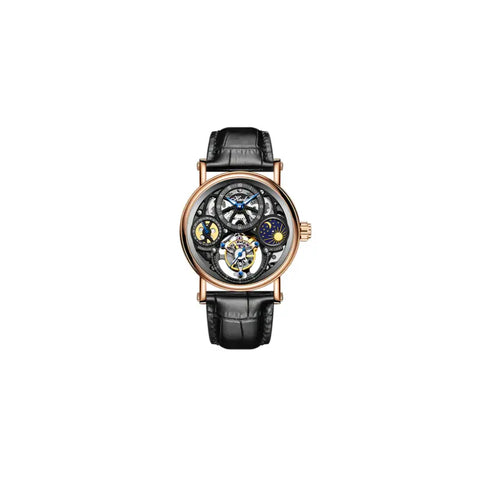 6) IWC
IWC was founded in 1868 and is one of Switzerland's most prestigious watch brands. It offers some of Switzerland's finest watches, including pilot and diving watches, but is best known for its men's chronograph models. The company focuses heavily on mechanical movements and has earned many awards for its top-of-the-line creations. 
---