7 Reasons Why Men's Copper Bracelets Are The Hottest Accessory Right Now
Men's copper bracelets have been all the rage lately, and the trend doesn't look like it's slowing down anytime soon. But why are they so popular, and how can you use them to enhance your personal style? These 7 reasons why men's copper bracelets are the hottest accessory right now will help you understand just that!
They're Inexpensive
Most men's copper bracelets fall in a price range of $10 to $50. Even if you only plan on wearing them for special occasions, it doesn't hurt to have a few spares on hand for when you want to switch up your accessories. When you think about it, that's an extremely small price to pay for something that will look good and make a fashion statement. There are plenty of brands offering high-quality men's copper bracelets at affordable prices.
They're Fashionable
There's something about jewelry that helps to add an extra flair to an outfit, regardless of what it is you're wearing. No matter if you wear a suit or your favorite pair of jeans and a t-shirt, men's copper bracelets will look good. They don't take away from your clothing choices because they go with almost anything you want to wear.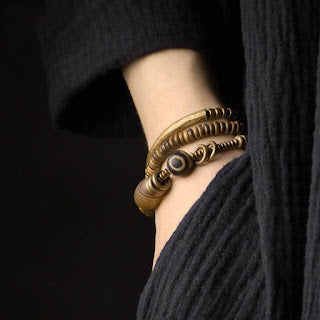 They go with anything
The best men's copper bracelets go with anything, making them easy to pair. From a T-shirt and jeans to a button-down and khakis, or even a suit, these cool accessories look good no matter what you wear. Best of all, because they're made from pure copper (one of nature's best conductors of thermal energy), they can help regulate your body temperature. The result? No more swampy hands in winter, and no more sweaty palms in summer. This also means that if you do find yourself sweating excessively while wearing one, it will actually work as an antiperspirant—keeping your hands dry without any harmful chemicals!
Another benefit of men's copper bracelets is that they come in all different sizes, meaning that you don't have to worry about them being too tight or too loose. If your wrist measures 6 inches around, there's a bracelet out there that will fit you perfectly. This means that whether you have big wrists or small ones, a men's copper bracelet will always look right.
They symbolize healing and longevity
A study published in The Journal of Alternative and Complementary Medicine found that wearing copper bracelets may improve circulation. This can help to ease arthritis, joint pain, and many other conditions. The very design of these bracelets promotes healthy circulation because their material is flexible and comfortable enough to move around on your wrist, which increases blood flow. You should consider buying a men's copper bracelet if you want your body to stay in tip-top shape for many years to come.
They're eco-friendly
 Another benefit of buying a men's copper bracelet is that it's eco-friendly. Many people turn to these accessories because they care about their environment and want to buy materials that won't harm Mother Earth. These bracelets aren't made with toxic substances, so you can feel good about wearing them and not worry about putting your health in danger or causing environmental destruction.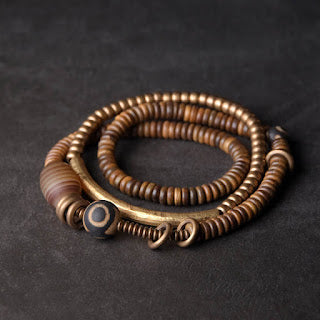 They're perfect for gifting
Whether you're looking for a Christmas gift or just want to get something special for your guy, men's copper bracelets can help with that. The best thing about these great accessories is that they make a statement and show off who you are! There is nothing worse than someone who has no idea what they like and what makes them unique. And unlike most gifts, men's copper bracelets don't expire.
Men's Copper BraceletsYou might not be sure what to get your man for his birthday, anniversary, or Father's Day. Give him something he'll love and can wear forever. Best of all, it won't end up in a drawer after one use! No one wants to be given something they already have or don't want.
Since they fit both men and women, you can buy two!
One for you and one for a friend. Even though these bracelets can be worn by both men and women, they're made to fit men, which means that if you have dainty wrists like some women do, they might not fit quite right. The best way to get a good fit is to buy two of them (one for yourself and one for your guy). This way they'll each fit as they should.
Also, these bracelets look great on men with bigger wrists, because they tend to be more loose and free-flowing. If you have a man in your life who has bigger wrists than average, then these bracelets will fit him perfectly. In other words, there's no reason why you can't buy two of them and even gift one to your guy if he happens to fall in love with it as much as you did!
The 8 different ways to wear them
If you're looking for a new accessory to compliment your personal style, look no further than men's copper bracelets. Whether you want to wear them as an everyday accessory or something special for a night out, these bracelets are sleek and stylish in every way. Here are eight ways you can wear your bracelet.
Since these bracelets don't make much noise when they move around on your wrist, they work great with a suit. If you choose to wear one with formal attire like that, stick with lighter colors like black or silver so it doesn't distract from your outfit. Plus, matching it with a nice watch gives it more of an elegant look.
 When you just want to wear your bracelet by itself, try wearing it on just one wrist. It makes a bold statement without distracting from any other accessories you might be wearing at that time.
Underneath Your Shirt Cuff:
 This is another way to wear it by itself without having anyone see it right away. Just slip it underneath your shirt cuff so only you know it's there until someone asks about it later.
 For those days where you just want to chill out, nothing goes better with a t-shirt than a simple men's copper bracelet. The best part is that since it has such little weight, you'll barely even notice it's there.
As An Accent Piece To Another Piece Of Jewelry: 
The main reason people love jewelry so much is because of how it compliments their outfits and looks. So instead of adding another necklace or ring to your ensemble, throw on a bracelet instead. It will add some extra flair without making things too complicated.
 With Jeans And A T-Shirt:
 Sometimes all you need is jeans and a t-shirt to feel good about yourself, but why not take it up a notch? Try pairing jeans with a casual button-down shirt and then adding your favorite men's copper bracelet to finish off your outfit.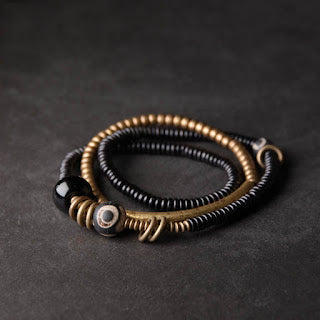 With Sweatpants Or Chinos:
 Nothing says a relaxing day quite like sweatpants and a t-shirt. But if you want to kick it up a notch, throw on some chinos or slacks along with your best men's copper bracelet. It adds just enough edge to make you feel comfortable while still being able to relax.
With A Long Sleeve Button-Down Shirt:
 Long sleeve button-downs are perfect for fall and winter, but what do you do if you still want to show off your best men's copper bracelet? Simply roll up your sleeves! You can either roll them all the way up or leave them a few inches unrolled depending on how much skin you want to show. Either way, it'll still look good.
Whether you're looking for a bracelet to match your outfit or want to upgrade your look, men's copper bracelets are hot right now. This isn't a fad—it's here to stay! Fashion-conscious men everywhere understand just how stylish and versatile these accessories can be. No matter your style or fashion sense, we believe there is a bracelet out there that is perfect for you.
---