2Jewellery mens leather cuff bracelets
2Jewellery mens leather cuff bracelets,1.What is tanned cowhid? Cowhide is the natural, unbleached skin and hair of a cow. It retains the original coloring of the animal. Cowhides are a product of the food industry from cattle. Cowhide is frequently processed into leather.
Once a cow has been killed, the skin is removed. It is then selected in the raw state, at the very first moment when it is salted. It is organized by size and color. In the tannery, a traditional hair-on-hide tanning method is employed to ensure that the hide is soft and less susceptible to odor and molting. It ensures that the cowhide will last longer. It is then naturally dried and the best hides are separated from the rest, with the ones that cannot be used in full as decorative items separated to be used as patchwork rugs. These are usually those with damage (for example cuts and other injuries to the skin during the life of the animal) that causes the skin to tear post drying. The scientific name of cowhide is Tanned bovine dermis.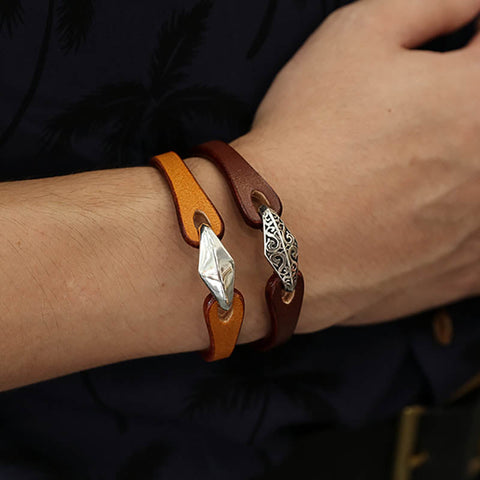 Cowhide leather and animal skins have always been one of the most used materials by man since ancient times, but why today are we 2jewellery use three different terms to indicate the same material? What's the difference between cowhide leather, skin or simply leather?
  To identify the differences it is necessary to take into consideration several aspects:
Tanning method

Leather part (cut)

Finishing

Intended use of the leather

The state of processing the leather is in
  men leather bracelets,Like all other genuine leathers, cowhide last very long, even if much depends on tanning method and on the finishing of the surface. A veg tan leather hide would tend to last longer compared to a chrome tanned one, on the other hand a more covered finishing layer, like the pigmented or printed one, although more artificial to the eye and touch, would result less delicate compared to an aniline finish.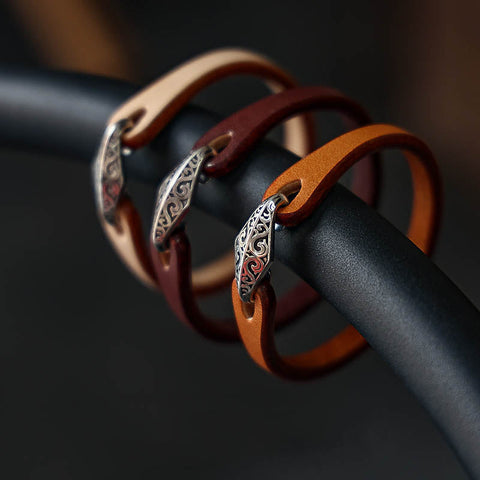 From suits to hoodies, men's leather bracelets can be dressed up or worn down. Treat yours well, and you'll find that it matches perfectly with anything in your closet. Mistreat it. and you'll end up with a dry, shriveled accessory. Or worse… one covered in mold.
  Keep your leather bracelets dry. Genuine leather acts like skin, meaning it's porous and will never be completely waterproof. Water can damage a leather bracelet and cause it to stain, discolor, or deteriorate.
  If your leather bracelet gets wet, the first step is to gently brush off the water. Use a soft, absorbent cloth to pat the strap (not scrub), and let it air-dry. Read more on water and men's leather bracelets below.
Avoid excessive heat. It's best to take off your bracelet when sleeping or during a heavy workout. But be careful where you place it. Leather does best in cool or room-temperature areas. Extreme heat can dry it out, so avoid radiators, stoves, or campfires.

Protect your bracelet from creams and oils. As with most bracelets, take them off before applying moisturizer, oils, or colognes. This includes sunscreens. While most aren't damaging, they will build up a film on the leather that can dull the look and feel of the hide.

Keep your bracelet clean. To clean 

men's leather bracelets

, use a slightly damp cloth with a drop of mild hand soap (moisturizer-free) and gently wipe it down. Wipe with a clean damp cloth afterward and allow the bracelet to air-dry before wearing.
---